VA - "The Fate of the Furious: The Album", Preview on iTunes Now!
The Fate of the Furious (alternatively known as Fast & Furious 8 and Fast 8, and often stylized as F8) is a 2017 American action film directed by F. Gary Gray and written by Chris Morgan. It is the eighth installment in The Fast and the Furious franchise and stars Vin Diesel, Dwayne Johnson, Jason Statham, Michelle Rodriguez, Tyrese Gibson, Chris Bridges, Nathalie Emmanuel, Kurt Russell, Scott Eastwood, Charlize Theron and Helen Mirren.
The Fate of the Furious marks the first film of the franchise since The Fast and the Furious: Tokyo Drift (2006) not to star Paul Walker, who died in a single-vehicle crash on November 30, 2013, during the filming of Furious 7 (2015).

Plans for an eighth installment were first announced in March 2015 when Diesel appeared on Jimmy Kimmel Live! and disclosed that the film would be set in New York City. Preparations for the film began immediately after the release of Furious 7 with Diesel, Morgan and producer Neal H. Moritz re-signing. After setting an initial release date in the same month, casting took place between April and June 2015. In October 2015, Gray, best known for directing Straight Outta Compton (2015), was announced to direct the film in the place of James Wan, who had directed the previous film. Principal photography began in March 2016 in locations such as Mývatn, Havana, Atlanta, Cleveland, and New York City, continuing the franchise's tradition of filming in different locations around the world.

The film premiered on April 4, 2017 in Berlin and will be released in the United States on April 14, 2017. The film will be released in 3D, IMAX 3D and 4DX internationally.
The Fate of the Furious: The Album is the soundtrack album to The Fate of the Furious. It will be released on April 14, 2017 by Atlantic Records, coinciding with the film's theatrical release. Five singles for the film were released. The first single "Go Off", performed by Lil Uzi Vert, Quavo, and Travis Scott, was released on March 2, 2017. The second single "Hey Ma", performed by Pitbull and J Balvin featuring Camila Cabello, was released on March 10. The third single "Good Life", performed by G-Eazy and Kehlani, was released on March 17. The fourth single "Gang Up", performed by Young Thug, 2 Chainz, Wiz Khalifa, and PnB Rock, was released on March 24. The fifth single "Horses", performed by PnB Rock, Kodak Black and A Boogie wit da Hoodie, was released on March 30.
Pitbull & J Balvin - Hey Ma ft Camila Cabello (Spanish Version | The Fate of the Furious: The Album)
Various Artists - The Fate of the Furious: The Album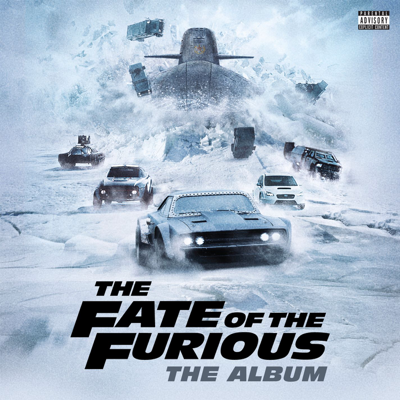 Genre: Soundtrack
Released: April 14, 2017
Pre-order on iTunes: The Fate of the Furious: The Album - Various Artists
Pre-order on iTunes: The Fate of the Furious: The Album - Various Artists
Track listing:
01. "Gang Up" (Young Thug, 2 Chainz, Wiz Khalifa and PnB Rock)
02. "Go Off" (Lil Uzi Vert, Quavo and Travis Scott)
03. "Good Life" (G-Eazy and Kehlani)
04. "Horses" (PnB Rock, Kodak Black and A Boogie wit da Hoodie)
05. "Seize the Block" (Migos)
06. "Murder (Remix)" (YoungBoy Never Broke Again featuring 21 Savage)
07. "Speakerbox (F8 Remix)" (Bassnectar featuring Ohana Bam and Lafa Taylor)
08. "Candy Paint" (Post Malone)
09. "911" (Kevin Gates)
10. "Mamacita" (Lil Yachty featuring Rico Nasty)
11. "Don't Get Much Better" (Jeremih, Ty Dolla Sign and Sage the Gemini)
12. "Hey Ma (Spanish Version)" (Pitbull and J Balvin featuring Camila Cabello)
13. "La Habana" (Pinto "Wahin" and DJ Ricky Luna featuring El Taiger)
14. "Hey Ma" (J Balvin and Pitbull featuring Camila Cabello)
G-Eazy & Kehlani - Good Life (from The Fate of the Furious: The Album) [MUSIC VIDEO]